Welcome back everyone!
Before we commence the news of our busy term ahead, let's take a few moments to think of Darryn Wright, his family, band colleagues and friends, after his sudden tragic passing. The many Vocally Wild members who attended both the SACB Tribute Concert and Darryn's funeral, together with our whole choir community, mourn his passing - he will be so very much missed by us all. Cherry's report on Darryn's funeral is below.

On a much lighter note, well done and thank you to Greg Anderson, Jenny and the entire Social Committee for their tireless efforts in organising last Saturday's 70's Trivia Night. It was a wonderful night and a huge success. See Jo Mansutti's report below. Next, of course, is our Annual Concert on Friday, 26th October - so do encourage all your friends and families to come along. Another flyer attachment with details will be sent shortly.

We all wish Patrice the very best with her forthcoming hospital visit - we will be thinking of you Patrice and will miss your wonderful playing. However, we are very happy to welcome back Clare, who was our accompanist for several years prior to having her three children. Wonderful to see you again Clare.

At the end of this newsletter is an interesting report, 'Music on the Rocks', from Richard Lovell, another of our talented,enthusiastic male singers., Richard's activities and interests will be fascinating to you all I am sure, so hang in there and read it!
DIARY DATES
FRIDAY, 26TH OCTOBER: VOCALLY WILD CONCERT, BRIGHTON T.H.
TUESDAY, 6TH NOV: CUP DAY (NO CHOIR)
TUESDAY, 27TH NOV. LAST ORDERS IN FOR CHRISTMAS 'FAYRE'
TUESDAY, 4TH DEC: LAST CHOIR NIGHT OF TERM 4
CHRISTMAS ORDERS READY
TUESDAY, 11TH DEC: BAYSIDE CAROLS IN THE PARK
SATURDAY, 15TH DEC. VOCALLY WILD PARTY, BLACK ROCK Y.C.

DARRYN WRIGHT
25 May 1965 – 23 September 2018
By Cherry Tunnock
Darryn's funeral on Tuesday 9 October was a moving musical feast with his band playing their toughest gig ever. It was truly a concert in his honour with pieces including Slipstream, Toccata for Band, Percy Grainger's Irish Tune from County Derry, Highlights from Oliver and Lord of the Rings. Then the soloists, Adrian Glaubert, Raphael Wong and Kate Amos, with whom so many of us have sung before, joined in with spine-chilling versions of The Holy City, Amazing Grace and You'll Never Walk Alone. Interspersed were family reflections and tributes and his final parting was to a beautiful rendition of Loch Lomond by his very emotional band. Darryn's warmth and talent will be sorely missed by all.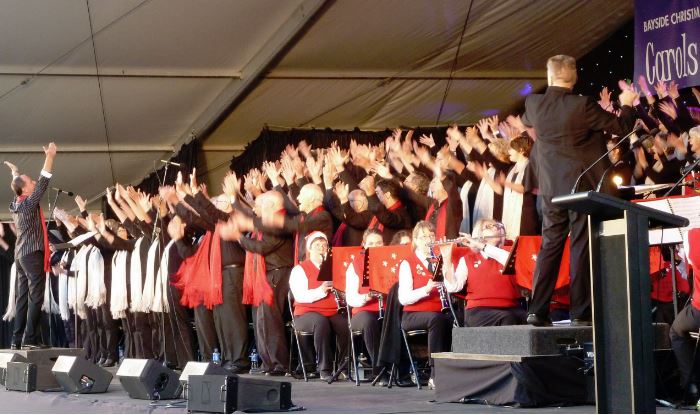 CONCERT - FRIDAY, 26TH OCTOBER

- Brighton Town Hall, 8.00 p.m.
Diana has confirmed the set list of songs (approx. 75 mins.) (Italics = a capella)
Lingmarra
:
Bring Me Little Water Silvy: Thuma Mina
:
My Country
: Lean On Me: Innaney
Meetin' Tonight
:
There is nothing like a Dame
Skyfall
:
All You Need Is Love
: Total Eclipse of the Heart: Dancin' in the Street
:
This Little Light of Mine:
Good night Sweetheart
:
Soon I Will Be Done
(with the troubles of the World).




Bookings

:

Via Try Booking -
www.trybooking.com/XMUP
This is a very simple process, without booking fees, so we encourage people to take advantage of this service. If you prefer, payment may be made on the night To save time, if paying on the night, it would be wonderful if correct money is given. Cost: $20 (children free). Of course, the stars of the show, the singers, don't have to pay!! It would be very helpful if you could add likely numbers in your party to the list at Choir next week. No need to include yourself though. Thanks.


What to Wear

: Please wear "black, with a splash of colour (block if possible) - as worn at the Rotary gig - with the red scarves being interspersed through the group. Three-quarter or full length sleeves and pants or skirt with opaque tights. Black shoes.


Choir arrival time:

Please arrive for warm up, sound check, etc. at 6.30 p.m. prompt, until 7.15 p,m. with the doors opening at 7.25 p.m. The Concert commences at 8.00 p.m., followed by supper and refreshments. We are unable to use the Library as our 'green room' this year, as it is not open late on a Friday, so mingling in the foyer as our audience arrives is a friendly option, or sitting outside if the weather is good. Some chairs will be made available for those who cannot stand for too long.
Chairs: Chairs will be placed near the stage for those who cannot stand for the whole time. A good time to sit, if needed, would be in the middle of the set, during the men's number and 'Meetin' Tonight'.


Helpers:

Thank you to all those who have offered to help on the night. You will be contacted shortly about your "jobs"!


Food:

As we are catering for the supper ourselves, if you are able to bring along a small plate to share, that would be most welcome. Perhaps a couple or three people may wish to bring a plate together. A trestle will be available for your plate on arrival. Wine, soft drink and tea/coffee will be supplied.

SOCIAL COMMITTEE NEWS



Report on Trivia Night

By Jo Masutti
Some say 13 is an unlucky number .. but not so for us Vocally Wilders. We enjoyed a fun-packed night on Saturday 13th October testing our challenged brains and retention for knowledge of fun facts at the Choir Trivia Night.
Seamlessly run by quiz-master extraordinaire Greg, and lovely assistant our very own Jenny, we rocked up to the 1970s at Beaumaris Bowls Club .. some attired in full period costume .. some in complete disguise (anyone seen Diana ??!) for a night of fun, friendship, food and fundraising. Oh, and music.. with a slightly recurrent Tiger's theme - hey Greg?!

Suffice to say our sell-out event was a roaring success raising fantastic funds through our high quality raffle hampers and generous gift donations for the Silent Auction. A big thanks to all who contributed to this fab night and to all who came along to participated in the games, raffles and trivia and got into the groovy spirit of the 70s.
Yeah baby!




CHRISTMAS ORDERS


Maggie, Toni and Pat will have Christmas Puddings, Cakes and Shortbreads available again this year, on a pre-order basis.

Orders are to be in by Tuesday, 27th November

and will be available for collection on Tuesday, 4th December, our last choir night for the year. Prices are:
Puddings: Large - $25. Medium - $18. Small - $12.
Cakes: 5" Square - $15, 6" Square - $19, 7" Square - $25, 8" Square - $30.
Shortbreads: Pack of 8 - $5.
An order form has been emailed giving full details and hard copies will be available on choir nights. Please hand your orders in to Maggie (Altos), Toni (2nd Sopranos) or Pat (1st Sopranos). Correct money would be appreciated if possible. Goodies will also be available during our Saturday 'Carols in the Park' rehearsals.

GRANT SUCCESS PURCHASES

Everyone will now be aware of our success in receiving a Bayside Community Grant earlier in the year. Vocally Wild is now the proud owner of the following equipment:.
Yamaha PA with a mixer which takes 4 mike inputs and 4 instrument inputs

Four microphones and stands

Yamaha P45G digital keyboard

Petrol generator for power for outside performances

Numerous cables and stands

Ten chairs
These items will certainly assist us in being a well organised, well equipped choir, ready to take on any challenge and fulfil our commitment to Bayside to "bring the joy of singing and music to the wider community". Many thanks to Jenny and Russel for their research and the purchasing of these items and to Ron Leigh's Music Factory, Hampton. Ron and Toby were also helpful with their advice during our Grant application process.
Choir Risers
We have found a safe, secure and under cover home for our choir risers. Thank you to all who gave this some consideration.

OPEN MIC NIGHT By Dianne Birch
Our Open Mic Night went off very well. Graham, John, Ken and Clint opened the night with an enthusiastic rendition of "There's Nothing Like a Dame". This was so well received that Diana has invited them (including Richard L) to perform it at our upcoming concert.
Teresa followed with "500 Miles" and accompanied herself with her new skills on guitar. Many people knew the words and joined in with gusto. Her aim is to perform for her mum at her nursing home in Byron Bay and everyone loved her heartfelt performance. I am sure that both her mum and fellow residents will absolutely love it when she performs for them.
Clint followed, beautifully singing the James Taylor song "Close Your Eyes" with all the sincerity that James Taylors songs are known for, and was well accompanied on guitar by Jenny with harmonies. Jenny got the audience going with "I Only Want to Be With You" and "These Boots Were Made For Walking". Next was Dianne with John Denver's – "Grandma's Feather Bed", Nat King Cole's "L.O.V.E" then a jazzed up version of "Almost Like Being In Love" from Brigadoon.
Diana did a rip roaring impromptu a cappella performance, free riffing on words "vocally wild" which segued into a dramatic version of "Where Is Love" from Oliver. We clapped, we followed her, she beat boxed, and sang her heart out whilst crawling on the floor, and singing from all the angles, that an acrobat would attempt, and we loved it. I'm sure that Pink would have something to look out for if Diana had of had something prepared!

It was an energy packed way to finish of a dynamic term of singing and friendship and we look forward to continuing this with your participation. So, think about doing something yourself or with a few others. You'll be glad you did and we are all here to support each other.


CONNOR'S RUN By Penny Repse
Vocally Wild supports Connor's Run


(Picture by Rob Tunnock).
On what was one of the coldest Sunday mornings of the year, about 30 hardy Vocally Wild choristers gathered on the St Kilda foreshore last month to serenade the participants in Connor's Run. The keen runners heard us break in to Lean On Me, All You Need Is Love, Bring Me Little Water Silvy and a few of our other classics as they ran past doing their 19 kilometres to support the Robert Connor Dawes Foundation.
Despite the chilliness of the wind, all of us felt the warmth of this wonderful event which raises funds to support the worthwhile mission of the foundation to end paediatric brain cancer. That warmth was at its peak when Connor's mother, Liz Dawes. thanked us for our singing and excitedly told us they'd raised more than $1 million.

The performance was also a good opportunity to put our new choir risers to the test - which they passed with flying colours. It was great to securely stand and sing on our raised platform overlooking the sea. I'm sure we'd all readily return next year with some new songs to support this important organisation.



FAMILY LIFE


In September, Alto, Lesley Winning, as Chair of Family Life, sent an email describing the development of their 'Catch Up' program in support of local women over 55 years of age. This is to remind us all of the wonderful work Family Life does in the community and if you would like to find out more about this local initiative, please contact Lesley or follow the link:
https://catchup.familylife.com.au




SORTING OF MUSIC


Thank you to all who returned their unwanted music sheets and to Maggie and her band of helpers who spent hours sorting them all out! Great recycling - these sheets will be used again, that's for sure.



S.A.C.B. DINNER DANCE - Tribute to Darryn Wright

(Message from George Keskerides, SACB
"Dinner with the Stars" will take place on Saturday, 27th October at the Southern Golf Club, Lower Dandenong Road, Keysborough, from 6.30 to 11.30 p.m. Cost of tickets: $67 pp or $633 for table of 10 - this includes 2 course dinner plus entertainment and silent auction. For more information and booking please contact
www.trybooking.com/379226
.

MUSIC ON THE ROCKS
By Richard Lovell
I have been lucky enough to be a geologist for more than 45 years.
Rocks, the way they form and deform are endlessly fascinating to me, and sometimes distracting – which can be a bit awkward if you are driving and spot something really interesting. My speciality is in rocks that get deposited mainly through the action of wind or water, otherwise known as sedimentary rocks.
During many of these 45 years I worked for a large oil company, and had the fortune to work and live in a number of different countries including: Canada, the U.K., the U.S., Malaysia and Australia. I was also able to visit and/or work on data from a number of other countries as well, in the pursuit of rocks and their origins: including Mexico, South America, Vietnam, Nigeria, Angola, Ireland and the Philippines. In fact I met my wife while on assignment in Melbourne and was able to retire from Big Oil and come and live (and occasionally sing) here.
I have always loved singing, listening to live music and I like to move, (occasionally dance), to the tunes. I used to break out into snatches of song even while at work. I have experienced working in a workroom where everyone took to wearing headphones! So now being in Vocally Wild and being able to let loose in a crowd (and being able to follow others who can actually hold a melody) is really great.
I now occupy my time, when not attempting to sing, with my own geological consultancy company, and volunteering for Vision Australia Radio, (1179AM), where I read newspaper articles, online articles and stories, for anyone who wants to hear news/opinions/stories with no embellishment or distractions. I also have a stepson who is a very good basket ball player who also is a partner in a small sportswear company and sometimes I help him at basketball events when his company is selling event merchandise. In fact we were at Kilsyth this past weekend at the Australian Club Championships event.
One of my recent jobs as a geological consultant took me back to Canada for a week to teach some people about how sedimentary rocks can be deposited in deep water – generally meaning a water depth of >200 metres but up to many thousands of metres, and how they can create oil or gas bearing reservoirs. I also got to work on some data on possible deep water deposits from West Africa, (in Calgary with the outside temperature being between -2 to +4 degrees centigrade at the time).
I only missed one choir session for that trip!!
Richard Lovell
Tenor – if I stand near one


Thank you Richard. If you would like to share a story, or you know of someone doing something extra-special, please let me know - we have such a wide mix of people amongst us with so many talents and interests and it would be great to hear about them.
Kind regards,
Pat Lowry