Hello all,
Hope you are able to receive our communications satisfactorily. If you are reading this, then there may not be a problem, but it seems that some mail from Harmony is going into our Spam or Junk folders - this may happen intermittently or continually. Russel advises that the solution is: Right Click on the email in the Junk folder and mark it "Not junk" or "Not spam" and your computer should acknowledge this and allow mail through and hopefully remember for next time! We will endeavour to head our communications with "Vocally Wild" so that this name is recognizable and accepted by the cyber warriors! However, we are advised to check our Junk Mail on a regular basis to be on the safe side.
If you plough through this newsletter, and are still focussing, you will enjoy Malcolm's follow up 'blog' on his experiences in Nepal. Amazing stuff.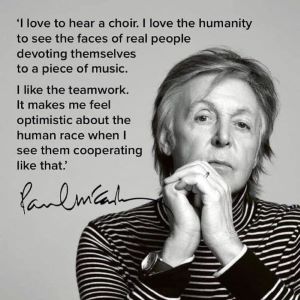 PARKING AT SANDY BEACH
Finding a car parking space is a nightmare at the best of times these days, wherever we go, so parking near SandyBeach is no exception as we all know.. So bearing this in mind, when we come to choir, if you need to park in Sims Street please do so further up the street - please don't use the 15 minute parking areas, or the Church car park. Some of the streets adjacent to Sims Street may have spaces. The car park on the opposite side of Beach Road always has plenty of spots; however, do be careful crossing Beach Road. Please speak out if you are nervous about walking to your car at the end of the night, someone would be happy to walk with you.
More news: We are now the owners of two new outside 'Vocally Wild' banners, so everyone will know who we are!!

CASUAL ATTENDANCE AT CHOIR
Most members pay their full term fees at the start of each term, half year, or annually and this certainty enables the Committee to plan and fulfil its many financial commitments. However, situations may arise where members are sick or absent for many weeks, but may wish to come along to a few rehearsals in a specific term. Also, an ex-member may be keen to come back to pay us a 'singing' visit. In these cases the Committee feels that a casual rate of $10 for each attendance is appropriate. Cherry is happy to look after this.

DIARY
See below an updated Performances and Events dates. Note a couple of changes - the V.W. A,G,M. is now to be held on Wednesday, 3rd April and the Kingston Choral Activity Registration Day has changed to Saturday, 4th May. The proposed combined concert with Mosaic and SACB has been cancelled for this year as the band is currently seeking a band leader and the timing is not right at the moment.
Event

Date

Comments

Social Gathering


Term 1 concludes

Sun. 24th Feb.


Tues. 2nd April

S'ham Pub, 5.30 p.m.

V.W. Annual General Meeting

Wed. 3rd April

Open to all members.

ANZAC DAY Pde, Beaumaris

Sun. 21st April

Easter Sunday

Term 2 commences

Tues. 23rd April

ANZAC DAY

Thur. 25th April

Kingston Choral Activity Reg.

Sat. 4th May

Reg'n for interested.

Vocally Wild Annual Concert

Fri. 14th June

Brighton T.H. 7.30 p.m.

Term 2 concludes

Tues. 25th June

Term 3 commences

Tues. 16th July

Kingston Choral Performance

Sat. 7th Sept.
Combined choir activity

Connor's Run

Sun.15th Sept.

Term 3 concludes

Tues. 17th Sept.

Term 4 commences

Tues. 8th Oct.

Sandringham Festival

Sun. 27th Oct.

TBC

Term 4 concludes


Bayside Carols
Street Singing (Carols)
End of year Christmas function
Tues. 3rd Dec.
Tues. 10th Dec.
December




TBC


TBC
SOCIAL COMMITTEE
Edwina reminds us about the social gathering this Sunday, 24th February at the Sandringham Pub, 5.30 p.m. Looking forward to seeing you there!

POPPIES
If you want to knit a poppy for ANZAC Day, I have a great pattern for a cheerful, curly Poppy! Let me know,. If you'd like to get together for a couple of group poppy-knitting afternoons, I'm happy to organise it at my place. We could make everyone one, sell them for small amount and donate the money to the RSL.

WEBSITE
The Committee is looking for someone from our membership who would like to volunteer to keep our Vocally Wild website up to date. I understand it is easily done via the Harmony site, so if interested, please make contact with anyone from the Committee or contact me (detail below). Many thanks.

QUESTIONNAIRE RE PROPOSED CHOIR TRIP
Thank you to the 34 responders. Here is a brief summary, but if you want the full report and comments, please let me know and I will email it to you. Watch out for more on this shortly!
12 preferred to travel just in Australia, 16 did not

25 considered travelling to Europe and 8 did not

22 would be interested in going to Hobart in June/July while 10 would not

12 would consider a return to Northern Italy while 18 would not

23 would consider travelling to Croatia in April 2020 while 10 would not

23 would consider travelling to Corfu, Greece, in September, 2020 while 9 would not

20 thought North America a possibility while 13 did not (no suitable festival discovered there at this stage)

5 people would consider our neighbouring country, Indonesia (Bali) while 25 would not

.
MUSIC NEWS
Section leaders (Sue Beazley - Sops, Lyn Sutcliffe - Alto, Claude Mansutti - Bass and Russel - Tenor) are happy to assist in any way, so do make yourself known to them if you have a query, need music, in fact, want to know anything really - they are 'champions' and know how to help!!

Thank you to Maggie and her 'stunning sisters in sorting of sheets' who worked tirelessly last week sifting, stapling and shuffling all the returned Christmas music. What a job, but it is now all nicely collated, filed and ready for the Christmas rush! The super sorters were Cecilia, Kay, Christine, Michele, Maggie and yours truly. Many thanks Maggie for organising this and thank you all for returning your sheets. We will all save the world at this rate.
CHANTSONG CIRCLE: SUNDAY, 3RD MARCH
Diana will be continuing her Singing Meditation sessions at the Castlefield Community Centre, 505 Bluff Road, Hampton on the following Sundays: 3rd March, 28th April and 26th May. Sessions commence at 1.40 to 3.00 p.m. Tickets (pre-booked on line or by phone) $20/$15 concession). Limited places at the door $25/$20. Arrive 10 minutes early to settle, bring a cushion, water and wear comfortable clothes. Bookings: https://www.trybooking.com/BAETJ or phone: 0433 855 580,
SU HART - VOCAL WORKSHOP IN AFRICAN RAINFOREST SINGING
Thursday, 7th March, 7.30 to 9.00 p.m. at the Castlefield Community Centre, 505 Bluff Road, Hampton. Learn the compelling singing and rhythm of the Baka Pygmies with Su, from the UK, who has travelled to South East Cameroon for over 20 years. Su has been asked by the Baka pygmies to teach their songs outside of the forest. Cost: $25/$20 Concession. Bookings - castlefieldadmin@baysiss.org.au
THE GOLDEN AGE OF BROADWAY
(Diana was sent this message and she thought you may be interested).
I am the producer of 'The Golden Age of Broadway' playing the Frankston Arts Centre on March 30th, 2pm. We are trying to get the word out about our show which is being independently produced and I thought your Vocally Wild community would be interested. The show is a two act musical revue celebrating the music of G & I Gershwin, Cole Porter, Irving Berlin, R & H, and many more, performed by the stars of Australian Musical Theatre and the Jack Earle Trio. Tickets start from only $38.95 and can be found here: https://artscentre.frankston.vic.gov.au/Whats_On_-_Buy_Tickets/The_Golden_Age_of_Broadway?fbclid=IwAR3l70a2SQCPDvfGsxwV9g-TqUDhXehf5iyO9ijDZgUo9nT9RkLBdVN9Z2g Maverick Newman

MESSAGE FROM JENNY
Hello cat lovers! ..a friends cat urgently needs a new home..is there anyone out there looking for a sweet 4 year old kitty?? Please let me know or PM me if you are interested or know of anyone who is..Thankyou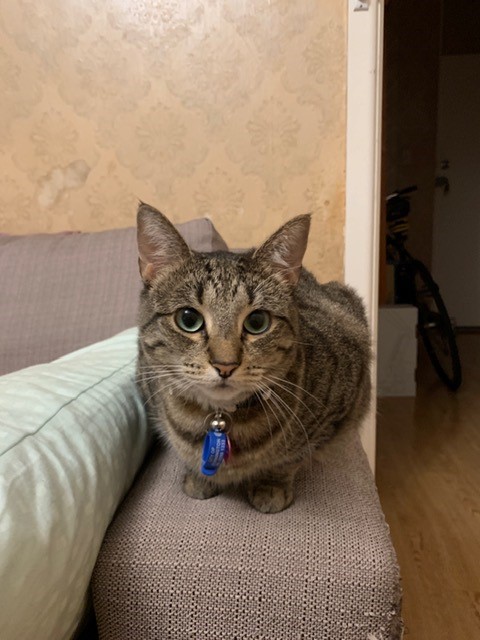 "Angel is turning 4 in March. She was 18 months old when we got her from the RSPCA. She has had a litter of kittens but was desexed just before the adoption. She is a very easy cat to love. She's great with children, even very young ones. She's not much of a dog lover and will defend herself if she needs to. We keep her indoors 90% of the time. She enjoys climbing 'her' tree from her second story apartment after dinner or when the sun goes down. She doesn't go far and comes as soon as she's called. As she is an indoor cat, her nails need to be clipped on a regular basis, her clippers will be provided. She doesn't mind a pat, a brush and a warm lap to sit on. She needs more attention than my partner and I are able to provide as our circumstances have dramatically changed and we fear that we are being cruel not being able to be home every night. She would suit a family environment or some owners that she is able to curl up with every night. We would love to keep her as she's so amazing but we feel that that is not fair to her. Please help her to find her new forever home. She is a most loyal companion and will bring you joy just as she has us."
Hello cat lovers! ..a friends cat urgently needs a new home..is there anyone out there looking for a sweet 4 year old kitty??Please let me know or PM me if you are interested or know of anyone who is..Thankyou

"FREE" SOLID TIMBER ENTERTAINMENT/MUSIC CABINET
I just wondered if you knew anyone who may be interested in an entertainment/music cabinet, as per the photo. No charge. It's a great piece of solid timber furniture. We have owned it since new, but with recent alterations at home it is no longer required and we're happy to give it to a new home! The size is: Height 1200 (cm), Width 1650 (with both side cupboards open about 2200) and Depth 580. It's on castors so can be moved, but it is quite heavy.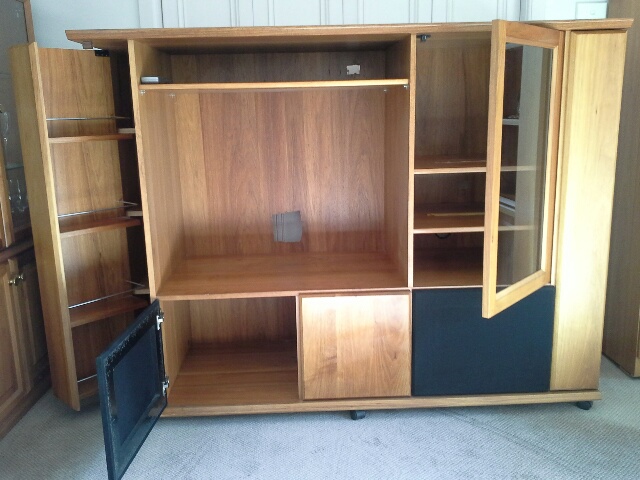 It's in great condition, just the hole in the back where the TV cords went through, which could easily be covered up and perhaps a shelf put there if no TV placed there. The side cupboards are great storage for CDs, DVDs etc. Contact Pat (below)

ONCE AGAIN IN NEPAL
In November last year I once again travelled to Nepal under the auspices of the Pahar Trust, Nepal (PTN). This charity provides schools, health centres and dormitories to the poor people of central Nepal.
As always the main impetus for the trip is to visit schools which I have helped by raising funds and to look for a school that we can help in the future. Last year saw the completion of a library at the village of Bal Padam and a preppies room at Kalika. There was much joy all around at the opening of these facilities.
We also visited the first school where I helped to fund a library. This school, Chhachok is now rated the best Government primary in Nepal. The impact of the library has been stunning: children numbers attending the school have rocketed. The librarian is funded from Australia, the drift of families from the village to find better schools has basically stopped and the Government has built two new classrooms! The school that I am going to help in the future is called Shree Sildu.
The school is situated in the village of Thak in the Kaski District. Historically, the village was known as a Guru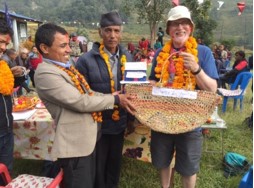 ng village with a minority of Dalit (un-touchables) but during the height of the insurgency almost all the villagers fled to Pokhara to escape from the Maoist threat leaving their property behind. The exception was the Dalits who had no option but to stay and face the threats. Presently, the Dalits are the major ethnic group in the village.
Since the first Nepalese national election took place and a stable government established people want to return to the village. However, an obstacle is the poor condition of the school. The very poor villagers have little money and thus whilst they desperately want their school improved they have no chance of raising the funds needed. They are seeking support from the PTN to fund the improvements. However long it takes I will find the funds! I will be delighted to chat with you about what I get up to in Nepal. Malcolm Peck
Kind regards,
Pat