Dear All,
Welcome to our new members this term – Una and Rosanne (2nd Sopranos), Irena, Pauline, Rebecca and Sheila - who will commence shortly (Altos), plus Brendan who joined us late last term. Also, a warm welcome back to many of you who had time out last term – the Christmas period is always such a busy and happy one, so let's enjoy every minute!
Thank you all 79 of you who responded to our Questionnaire –your input is much appreciated. A summary will be issued shortly. Don't forget to bring your blue raffle tickets on Tuesday!
Well done to Diana and the performers at Seniors' Week Launch – see Edwina's report below. Hopefully we will get another good turnout for the WWII Vets' Lunch next month and some extra performances just announced below..
DIARY

FRIDAY, 8TH NOVEMBER

WW11 VETERANS' LUNCH

SUNDAY, 10TH NOVEMBER

BAREFOOT BOWLS SOCIAL

SATURDAY, 23RD NOVEMBER

BAYSIDE CAROLS REHEARSAL

WEDNESDAY, 27TH NOVEMBER

CAROLS AT FAMILY LIFE (TBC)

SATURDAY, 30TH NOVEMBER

BAYSIDE CAROLS REHEARSAL

TUESDAY, 3RD DECEMBER

TERM 4 CONCLUDES. 'OPEN MIC'

SATURDAY, 7TH DECEMBER

BAYSIDE CAROLS REHEARSAL

SUNDAY, 8TH DECEMBER

FINAL CAROLS REHEARSAL, 7.30

TUESDAY, 10TH DECEMBER

BAYSIDE CAROLS IN THE PARK

FRIDAY, 13TH DECEMBER:

CAROLS AT MAYFLOWER (TBC)
SENIORS' WEEK BAYSIDE LAUNCH -
Edwina McLachlan
The 1st October marked the start of Seniors week and as you know Vocally Wild was invited to sing at the Bayside Launch. It was a beautiful day, warm and sunny and we had 35 choristers arrive to sing! It was a wonderful performance to a packed house at Milano's Tavern in the Terminus room, and we sounded fabulous! We sang 'Lean on Me', 'People Get Ready', 'House of the Rising Sun' and finished with 'This Little Light of Mine'.
Vocally Wild received rave reviews from many in the audience, which included Bayside Councillors and the Bayside Mayor and who knows .... perhaps this will lead to further invitations!
Thank you to all those who participated in the middle of a working day and during school holidays. Special thanks go to Diana and Patrice for giving of their time and also to David and Russel who spent yet again many hours, pre and post the performance, setting up so that our superb sound was heard by all!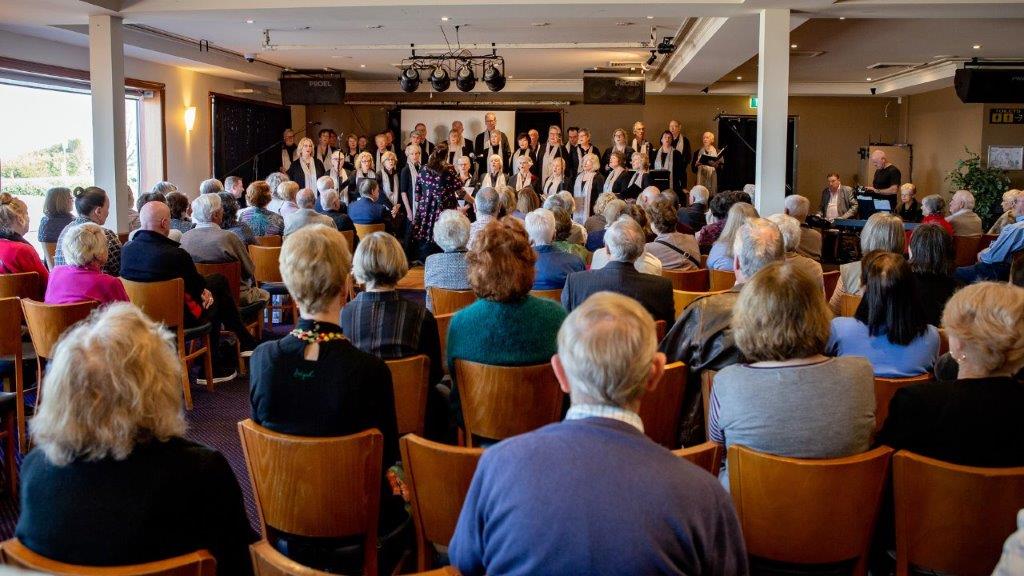 VIVA MELBOURNE FUNDRAISING DINNER
– Maggie Cripps
Close friends, great neighbours and a few trusty Croatia bound helpers filled our home to bursting point for a wonderful night of food and entertainment.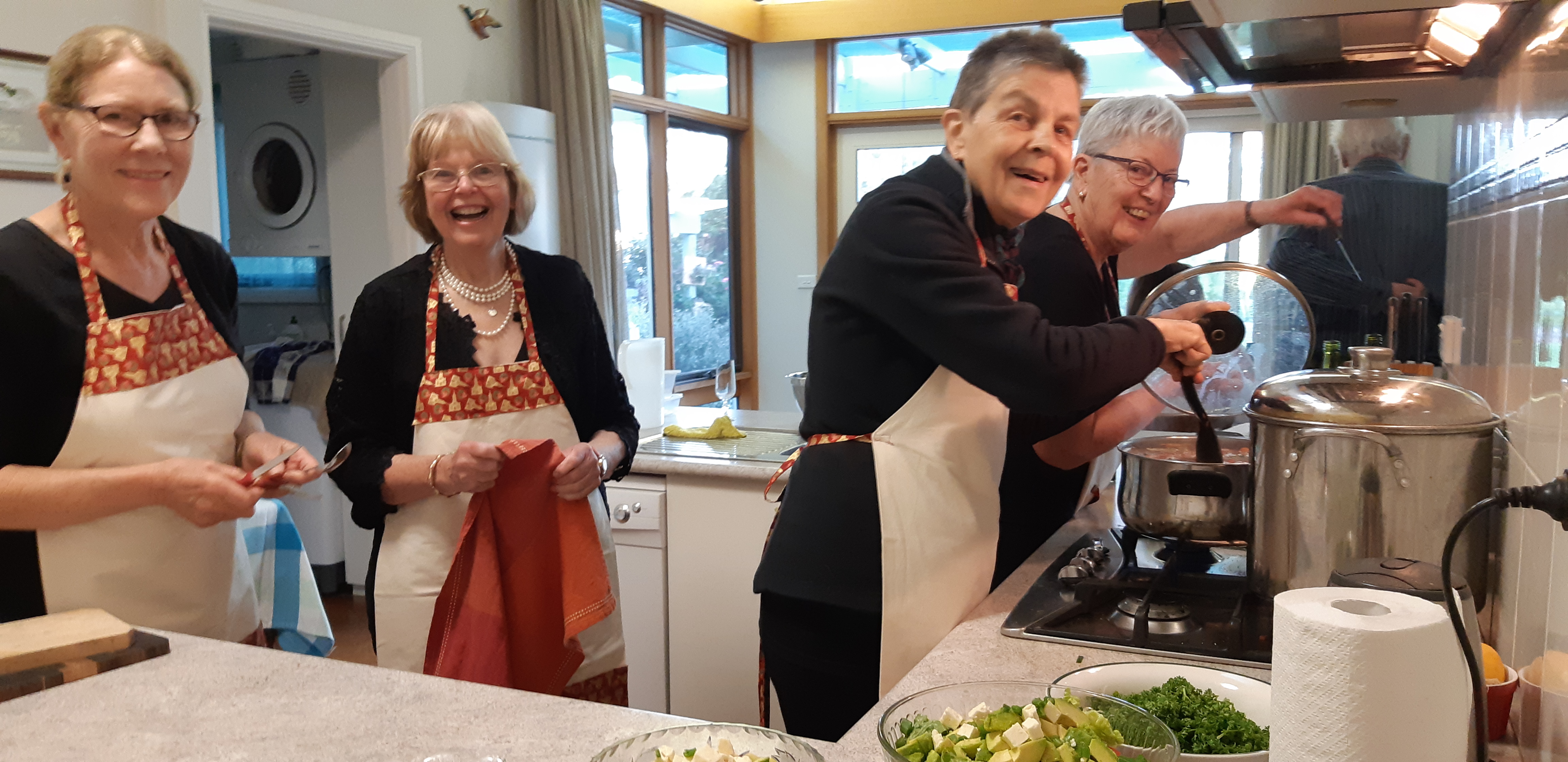 We were fortunate indeed to have Patrice, Diana and Doug accept the invitation to do cameo performances. Thank you to all those who helped make it a success. We achieved our aim of raising over $700 on the night for the Viva Melbourne trip to Croatia next year.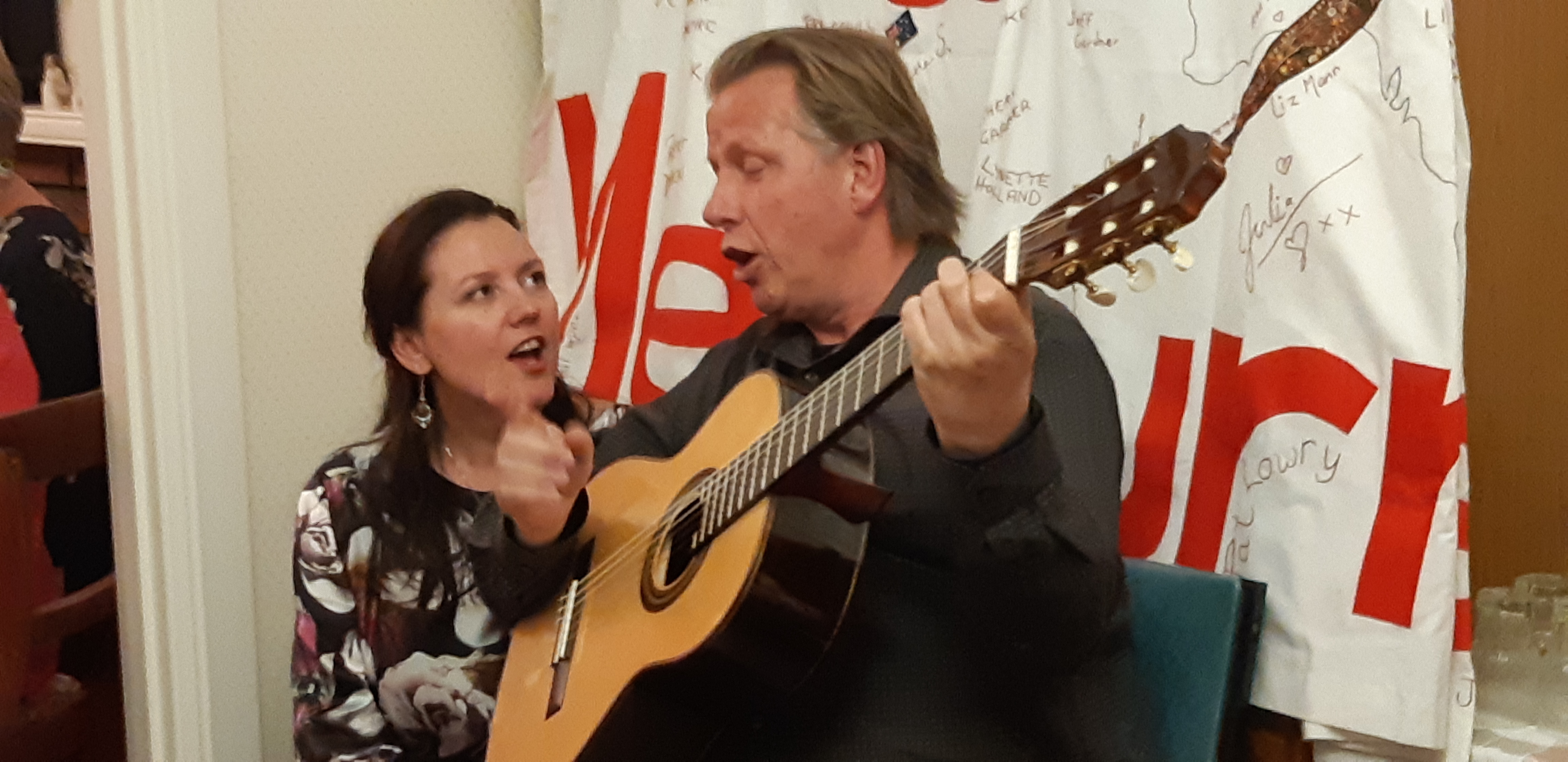 SINGING LESSONS
– Dianne Birch.
"Music is the Language of Memory"

If you would like to enhance your vocal
range and confidence with singing, having one on one singing lessons is a great way to achieve that. If this is something you are interested in please be in touch with
Dianne Birch
M: 0410 583 496









VOCALLY WILD WEBSITE


Robert and Cherry have organised a link for Vocally Wild members to enable access to our Open Mic recordings, so follow the instructions below. Access is for Members only.
Go to our Vocally Wild website.

Members' Home.

Within Members' Options click:

REHEARSAL RECORDINGS button

The title (in blue) that you wish to see.

Then, depending on your computer's software:

Click the diagonal arrows to expand (bottom right hand corner of picture) OR

Right click and select Full Page.
Good luck – if I can do it, anyone can!! Thank you Cherry and Robert.



WWII VETS' LUNCH, BEAUMARIS RSL - FRIDAY, 8TH NOVEMBER
Venue: Beaumaris Lawn Tennis Club, Banksia Reserve (off Balcombe Rd). Enter via Oak St.

Time of arrival - Club will be open at 11.15 a.m. for Choir set up.

12.00 noon – welcome songs in the foyer to greet guests.

1.00 p.m. - Entrée served. Songs between Entree and Main course.

2.30 p.m. – Songs after Main course.

3.00 p.m. – Function concludes.
Choir members are welcome have lunch - cost is $30.00 per head. Please add your name to the list at Choir if you are willing to take part in the singing. Patrice will accompany us and extra song sheets will be available on Tuesday at rehearsal.
VOCALLY WILD END OF YEAR SOCIAL
- SUNDAY, 10TH NOVEMBER, 2019
Our final social occasion for the year is at the Black Rock Bowls Club, Fern Street, Black Rock, from 3.00 til 8.00 p.m. Please come along, bring your family and enjoy this fun afternoon/evening. Remember, bowling isn't compulsory – just a bit of fun if you want to take part. The main objective is getting together as it will be close to the end of our year. There is no charge. Barbecue food will be provided, for example: Sausages (variety), Hamburgers, Chicken, Salads, etc. However, if you wish to bring along some more 'sophisticated' barbecue fayre, you are welcome to do so. Please purchase your drinks, alcohol and soft drinks at the Club bar. The kitchen will be open for us to use. The Mega Raffle, in aid of Viva Melbourne's choral trip to Croatia, will be drawn on this day. The prizes are amazing. A flyer is attached with full details and hard copy flyers will also be available.
If you decide to join in the fun and 'challenge' of bowling, to respect the integrity of the greens, we do ask that if your shoes aren't completely flat soled, you bowl with bare feet. Thank you.
BAYSIDE CAROLS IN THE PARK
Please put the following dates and times in your diary! All rehearsals will be at the Brighton Town Hall.
Saturday, 23rd November – 10.30am – 1.00 p.m.

Saturday, 30th November – 10.30am – 1.00 p.m.

Saturday, 7th December – 10.30am – 1.00 p.m.

Sunday, 8th December – 7.00pm – 10.00 p.m. (Sausage sizzle will commence at 5.30 p.m.)

Bayside Carols - Tuesday, 10th December - 7.30 p.m. – 9.30 p.m. (call time is 6.30 p.m.)
CROATIA FESTIVAL 2020 UPDATE
Some of you have asked to hear about the Viva Melbourne choir trip to Croatia in late March/early April, 2020. (Viva Melbourne is the name Vocally Wild use when singing away from Australia). There will be 36 people travelling, 28 singers (22 women, 6 men), 6 partners and 2 professionals. Most will be departing on 28th March to fly to Venice where the group will stay for 3 days and hopefully rehearse in one of the wonderful old Venetian churches. On the 1st April we will travel by bus to Porec in Istria. The International Festival of Choirs and Orchestras takes place from 1st to 5th April in Porec. Rehearsals commence on Sunday, 20th November – 2 this year and 6 more prior to departure. There will be a Concert on the 15th March when everyone will be invited.
Thank you to all of you who have purchased Raffle tickets in aid of the Croatia trip. The prizes are amazing so good luck!!
HOBART 2020 UPDATE
We are about to formulate plans for our proposed Vocally Wild trip to the Festival of Voices in Hobart during July, 2020, so if you are interested, and you haven't already got your name on the Expressions of Interest list, it will be at Choir on Tuesday. All people on the list will be contacted as soon as more information is available.
Our new members have been forwarded some information about these exciting choir trips and if anyone else is interested in either, please contact Lidia Maslin (Croatia) or Cecilia Stone (Hobart) or me
FAMILY LIFE
Family Life is a wonderful organisation, which runs amazing programmes in the local community. Two of our Vocally Wild members are extremely active in this charity and Lesley, who spoke to us last week at rehearsal, has brought to our attention a couple of interesting activities:
"The Way of All Fish"

- Wednesday, 23rd October

Catch Up 4 Women – Drop In Wednesdays. Lesley has invited us to attend this rehearsed reading – a comedy by Elaine May, from 10.00 to 11.30 a.m. at the Family Life's Cheltenham Op Shop, 1297 Nepean Highway. Lesley is part of this production which is presented by Two Mans Theatre in association with Mystical Dog Productions. Hopefully some of you will be able to attend and support Family Life with their Family Life Catch Up programme.

Sing Carols

-

Wednesday, 27th November

. Lesley has also invited a group from Vocally Wild to sing Carols at the Drop In as part of the Catch Up programme. If you can come along to the Cheltenham Op Shop for half an hour or so, they would be delighted. I will put a sheet at the back of the room at Choir on Tuesday for names of those interested in singing. They would be delighted if a group of about 15 could sing.
MAYFLOWER – Friday, 13th December
A short while ago a very cheerful group of Vocally Wilders sang with Patty Chaplin's Ukulele group at Mayflower in Centre Road, Brighton. Patty and Mayflower have invited us to return to sing Carols to the residents and friends. I will put a sheet at the back of Choir on Tuesday night for you to add your name if you're interested and able to come along. Time to be confirmed, but it is likely to be about 10.30 a.m.
CHICAGO – THE MUSICAL
Rose Olsen has asked me to remind you that she has a number of tickets left for "Chicago" at the Art Centre on 29th January, 2020, at 1.00 p.m. The price is excellent - $70 pp. Rose mentions that these would be wonderful Christmas gifts, or just a treat for yourselves! Payment is required by early November, so please contact Rose on 0401 277 815 or Kate at choir. Thank you.
MORE

MUSICAL ITEMS OF INTEREST
SINGING MEDITATION CIRCLE – Sunday, 24th November. 2.00 to 3.30 p.m. at Castlefield Community Centre. A relaxing session of Chant Songs. Tickets #20/$15 prebooked, or $25/$20 at the door. Contact: 9598 0662 or www.trybooking.com/BFLAW.

LOCAL MUSIC

- The Kingston Centre is very proactive with bringing live entertainment back to Moorabbin. A variety of concerts and band performances are planned for the next few months, so if you want to learn more, contact kingstonarts.com.au

ST. DAVID'S DAY WELSH CONCERT

– Friday, 28th February, 2020. The Victoria Welsh Choir returns to Elisabeth Murdoch Hall in 2020 to celebrate the rich Welsh musical tradition. Now in its 40th year, Victoria Welsh is a traditional Welsh male choir, singing in four part harmony. They perform hymns, ballads, show tunes, arias and Celtic favourites raising the roof in concert halls from Bangor to Bairnsdale. This is a night of great entertainment for all lovers of Wales' musical heritage. The Choir's conductor, Faleiry Koezkar, OAM, will share the podium with a visiting conductor from Wales. Tickets are on sale now. Time: 7.30 p.m. Price: from $30. For more details contact melbournerecitalcentre.com.au
ANOTHER INTERESTING TITBIT
It's always good to read about interesting people. Our ex-Vocally Wilder, Patty Chaplin, has a famous cousin - Judy Nunn, the best-selling author who has recently released her new novel "Khaki Town'. You may have read some of her earlier novels. Judy and Patty originally hailed from Western Australia. Judy Nunn, you may remember, is also a well-known actor who appeared in 'The Box' in the 70's who also spent 13 years in 'Home and Away'. Judy is also married to an actor! Apparently a hilarious household. What fun.
Kindest regards,
Pat Lowry